J-Man's Ultimate Pumpkin Pie
Sin-Gal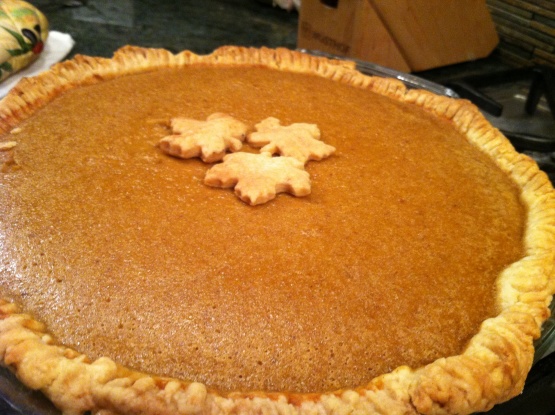 This is a modified version of a recipe I had found on Epicurious.com. Use your favorite pie crust recipe or a pre-made refrigerated dough.

Absolutely loved this pumpkin pie. It was very creamy and had the perfect amount of spices. I made my own crust and used a cheese pumpkin for this recipe. I modified it a little by using fresh ginger instead of the powder and added a teaspoon of vanilla. My husband and daughter said it was the best pumpkin pie they have ever had. I will definitely be making it again.
Preheat oven to 325 degrees.
Whisk the first 8 ingredients until no lumps remain. Blend in pumpkin, whipping cream sour cream and eggs.
Pour into pie shell and bake until center is almost set. About 55 minutes (usually a bit longer in my oven).