Nif_H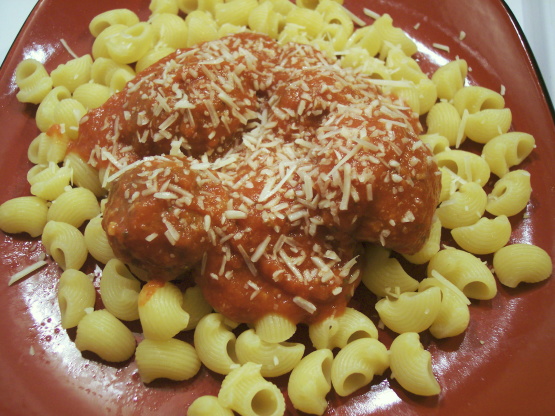 I started cleaning out some of my cookbooks that I'm no longer using and found this in "Your Fat is Not Your Fault" by Carol Simontacchi. I made a few changes to the herbs in the sauce from the original recipe and it was a nice change from my usual spaghetti dinner. Edited as per review -- one serving = five to six meatballs (depending on size).

These meatballs were sooo delicious and easy to make. I used ground turkey instead of beef but did not change any other part of the recipe. My 4 1/2 year old son who is a very picky eater loved them and even had seconds. I will definitely make this again.
Heat milk in a small sauce pan and add the oatmeal.
Stir and let sit while you prepare the rest of the ingredients.
In a mixing bowl, combine the ground beef, onions, parsley, egg, Parmesan cheese, oil, the oatmeal/milk mixture, and salt. Mix thoroughly but gently.
Without squeezing, shape the mixture into small round balls about one inch in diameter.
Bake the meatballs in a 350°F oven for about 10 minutes. (Don't worry if they're not done all the way - they will continue to cook in the tomato sauce).
Meanwhile prepare the tomato sauce by combining the sauce with the garlic and dried herbs, salt and let it simmer gently while the meatballs cook.
When the meatballs have browned, add to the tomato sauce and slowly simmer, covered, for another 45 minutes or until the meatballs are thoroughly cooked. Stir occasionally to make sure the sauce does not stick.
Bring a pot of water to boil and add the pasta. Cook according to package directions.
Serve meatballs and sauce over pasta.