It's Cold Outside Bean and Sausage Chowder
Rita1652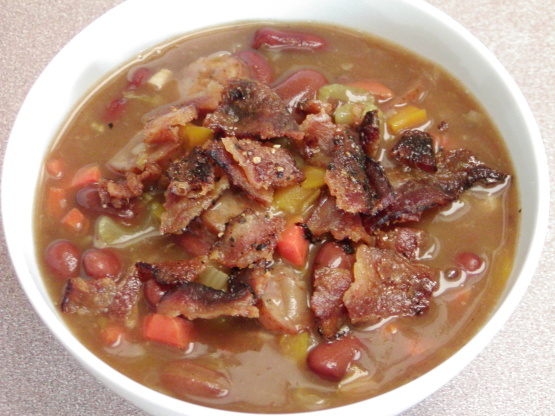 This is a great soup to make on cold winter days when you don't know what to make for dinner and it's too cold and snowy (or rainy) to go to the store -- this is the soup that is perfect for those days when I used to live on the east coast or when kids were sick--using ingredients that I almost always have on hand and which is very adaptable to subsitutions depending what is in the refrig. We like this soup served with whole whole wheat bread or rolls. Recipe source: Bon Appetit (October 1982)

Oh my gosh, I loved this, altho funnily enough, DH was less enthusiastic, he found it a bit thick. Well, it is a chowder! I think he is not so used to chowders. I was generous with the veggies, and apart from not having celery, stuck to the recipe. Served with crusty french bread. I thought it was fabulous! Oh, looking at my photo reminds me that I had to use chickpeas... been busy using my pantry supplies and didn't realise I hadn't re-stocked on beans. Chickpeas were good though!!! Thank you ellie_! Made for PMMR tag game.
In a large heavy skillet fry bacon until crisp, reserving 2 tablespons bacon drippings. Drain on paper towels and crumble and set aside.
Transfer reserved bacon drippings to a large dutch oven over medium heat and add onion, green pepper and celery, cooking for 10 minutes or until vegetables are tender. Remove from heat.
Stir in flour and next six ingredients (beans- pepper) and cook over medium-high heat until mixture comes to a boil, stirring constantly. Reduce heat, cover and simmer over for 25-30 minutes.
Add sausage, cover and continue simmering another 10 minutes.
Ladle chowder into bowls and sprinkle with reserved bacon.