PaulaG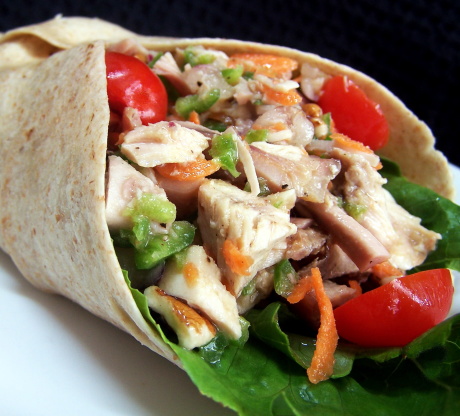 Chicken salad wrap that is. This wrap is delicious and a perfect way to use leftover roast chicken. It is sweetened with pineapple and has crunch provided by pecans and a touch of a kick with the jalapeño peppers. These can be served immediately; however, are better after refrigerating the chicken salad and allowing flavors to blend thoroughly then making into wraps. Developed for RSC #10. Enjoy!

This was good but not great. It may be because I tried to go light on the dressing on mine in order to reduce calories. It got eaten at my house but no one was asking for seconds or for me to make it again.
1 1⁄2 cups cubed cooked chicken (roasted preferred)

3

tablespoons pecans, chopped
1⁄4 cup pineapple chunk, drained well, diced

2

tablespoons red onions, chopped

2

jalapeno peppers, minced (seeded if less heat is desired)
1⁄2 medium carrot, shredded

2

tablespoons fresh basil, minced
salt and pepper, to taste

2

(10 inch) flour tortillas

2

large romaine lettuce leaves, washed, well dried

6

grape tomatoes, halved

Maple Dijon Dressing

2

tablespoons maple syrup

2

teaspoons Dijon mustard

2

tablespoons white wine vinegar

1

teaspoon lemon juice
1⁄4 cup olive oil
Mix together the chicken, pecans, pineapple, onion, jalapeño peppers, and carrot; set aside.
For the dressing, combine the syrup, mustard, vinegar and lemon juice in blender jar; turn on medium speed and gradually add the oil until mixture is slightly thickened.
Drizzle 2 to 3 tablespoons of dressing over the chicken mixture, sprinkle with a few grinds of freshly ground pepper and coarse salt, toss to coat. The remaining dressing can be saved for a tossed salad or used as a dipping sauce for the wraps.
Warm tortilla slightly in the microwave or over an open flame; place 1 lettuce leaf on top of warmed tortilla; divide the chicken mixture evenly between the 2 and top with halved grape tomatoes.
Fold in one end of tortilla and fold over both sides, secure with toothpick and serve.