LifeIsGood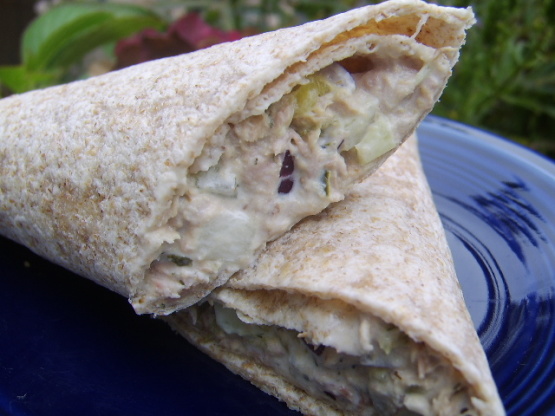 Try something new for lunch! Adapted from The Ultimate Weight Solution Cookbook by Dr. Phil McGraw.

Top Review by Debbwl
Yumm! Almost identical to the way we have made tuna for years. Made as written and will do so again. Thanks for the yummy tuna lunch.
Combine the tuna, celery, dill relish, mayonnaise, onion, lemon juice, dill, salt, and pepper in a bowl. Cover and set in refrigerator for up to 24 hours.
To make the wrap, spoon 1/2 cup filling into each tortilla and roll it up. Enjoy!
Note:.
You may make this to go, but you must keep the filling and the tortilla separate so the tortilla doesn't get soggy over the course of the morning. Store the filling in the fridge, so the mayonnaise doesn't spoil.