Evie3234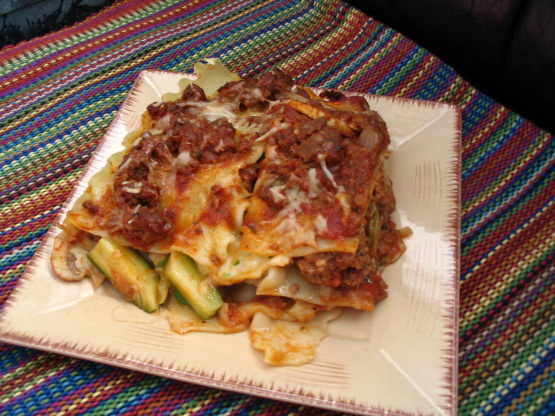 From: www.cooking-italian-food.com

This was a great lasagna! The texture of the zucchini was really good, better than another zucchini lasagna that I've made. To accomplish the folding over of the lasagna noodles (step 9), which I was really confused about when I read the recipe, this is what I did: I took 4 noodles, put them side-by-side along the longest sides of the pan. To get them to hang over the sides I started all 4 of them in the middle of the pan, so half of each noodle was hanging over the side, and got 4 more noodles on the other side, starting in the middle. So there were 8 noodles on the first layer, not overlapping, but hanging half over the sides. Then for the second layer I put 3 lasanga noodles side-by-side going the opposite way of the other noodles, like a normal lasagna, along the longest length of the pan. Then for the top I folded over the hanging noodles. It really worked great. I think this is a great method, because I found there were less crusty edges doing it this way! :) My only concern that I will change next time will be to increase the spices. The sauce seemed bland to me, and was quite thick too. With some minor adjustments I will make again! Thanks for the great recipe!
Cook lasagna noodles according to package directions or until tender but still firm.
Drain, keep warm.
Meanwhile, to make lasagna sauce, saute ground beef, garlic and onion is a large heavy skillet or cast iron frying pan until beef is done.
Add sauce, mushrooms, oregano, thyme, basil, wine or 1/4 cup water, touch of pepper and mix well.
Simmer 45-50 minutes .
To prepare Zucchini for this recipe, cut in half or cook whole in a large covered pot with 1-2 inches of water.
Boil gently for about 5 minutes, drain and cut lengthwise into 1/4 inch slices.
Grease a 9" x 13" or larger, baking pan.
Arrange a first layer of noodles so the ends hang over both sides of the pan.
These will be folded back-over the top on the final layer.
Next, add a layer of the cooked zucchini, a layer of lasagna sauce, a layer of mozzarella cheese.
Repeat.
For the top layer, fold the ends of the pasta from the first layer over the top and add more sauce.
Top with parmesan cheese and cover with foil.
Bake at 350 degrees for about 35-40 minutes , uncover and bake until brown, approximately 10 minutes.
Serve this Italian food with french bread and have additional parmesan cheese at the table.