Italian White Bean and Artichoke Salad

I am sure this came from one of the cooking magazines, but no longer know which one ! I have made this several times for groups of from 4-14, and given as many copies to attending guests. Hints : this is rather labor-intensive, so slice and chop early in the day, keeping each ingredient in a separate baggy. You may use red an/or/green peppers, and choice of Asiago, sharp provolone, or feta cheese. The original recipe called for canned artichoke hearts, drained and quartered, but I have found that the marinated are already quartered, more tender, and less fibrous.
Vinaigrette

36.97 ml red wine vinegar
29.58 ml olive oil
4.92 ml tomato paste
1.23 ml salt
0.59 ml black pepper
1 garlic clove, minced

Salad

1419.54 ml Baby Spinach, thinly sliced
473.18 ml bell peppers, sliced thinly
85.04 g asiago cheese, diced
118.29 ml celery, sliced diagonally
118.29 ml red onion, sliced vertically
29.58 ml fresh basil, chopped
14.79 ml fresh parsley, chopped
538.64 g can cannellini beans, drained and rinsed
340.19 g jar marinated artichoke hearts, drained
Directions
Combine first 6 ingredients in a small bowl whisk.
Combine spinach and remaining ingredients in large bowl.
Drizzle with vinaigrette.
Toss gently.
Reviews
Most Helpful
This salad is indeed delicious but you should really double the vinaigrette. Too little as it's directed here (and it's healthy and delicious, so why not?).
I loved this salad too:) Yes the dressing in particular was good but all ingredients went together well. That being said, my BF didn't like this as much as I did because it has fresh basil and raw onions, both of which he isn't overly fond of but I am (clearly I decided to indulge myself last night). I used a yellow bell pepper, plain artichokes from a can, fat-free feta instead of asiago and lowered the amount of oil a bit. I should have sliced the bell pepper, it would have looked a bit prettier than chopped. I didn't bother to slice the baby spinach at all. I would add that I didn't think this recipe was very labor-intensive as it only took me a half-hour to make! We managed to eat just about all of this salad with a starch side dish. Thank you Janey!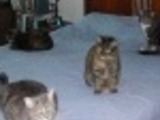 I really loved this salad. I made a few changes however. I deleated the bell pepper, and onion (personal taste). I also topped the salad with grilled chicken breast slices and used it as a main dish salad. We loved the dressing. I was looking for something a little different. Thank you.