3 Reviews
This salad is indeed delicious but you should really double the vinaigrette. Too little as it's directed here (and it's healthy and delicious, so why not?).
I loved this salad too:) Yes the dressing in particular was good but all ingredients went together well. That being said, my BF didn't like this as much as I did because it has fresh basil and raw onions, both of which he isn't overly fond of but I am (clearly I decided to indulge myself last night). I used a yellow bell pepper, plain artichokes from a can, fat-free feta instead of asiago and lowered the amount of oil a bit. I should have sliced the bell pepper, it would have looked a bit prettier than chopped. I didn't bother to slice the baby spinach at all. I would add that I didn't think this recipe was very labor-intensive as it only took me a half-hour to make! We managed to eat just about all of this salad with a starch side dish. Thank you Janey!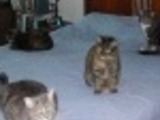 I really loved this salad. I made a few changes however. I deleated the bell pepper, and onion (personal taste). I also topped the salad with grilled chicken breast slices and used it as a main dish salad. We loved the dressing. I was looking for something a little different. Thank you.

Italian White Bean and Artichoke Salad