lazyme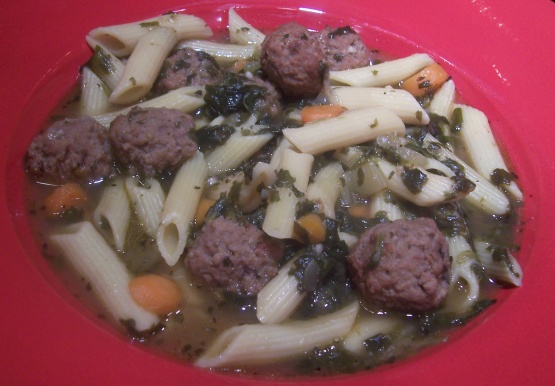 I love wedding soup and this is one of my favorites.

This is a fantastic soup! Very easy to make and not at all expensive. The meatballs were excellent! My husband and I love soups and we both gave it a 10!
In a large bowl, combine eggs and bread crumbs. Crumble beef and sausage over mixture; mix well. Shape into 3/4-inch balls.
Place meatballs on a greased rack in a foil-lined 15-inch 10-inch x 1-inch baking pan. Bake at 350 degrees for 15-18 minutes or until no longer pink.
Meanwhile, in a soup kettle or Dutch oven, sauté carrots, celery, onion and garlic in oil until tender.
Stir in the broth, spinach, basil, soup mix, ketchup, thyme and bay leaves.
Drain meatballs on paper towels.
Bring soup to a boil; add meatballs.
Reduce heat; simmer, uncovered for 30 minutes.
Add pasta; cook 13-15 minutes longer or until tender, stirring occasionally.
Discard bay leaves before serving.