ChefLee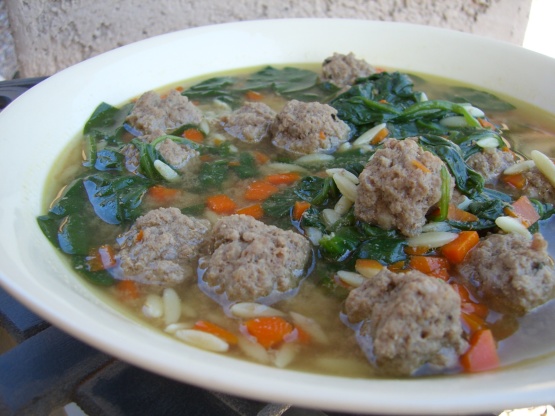 I made this recipe yesterday for a client and it turned out yummy! So good that I am making it for my husband and myself tonight! I did make a few changes - I kind of combined two recipes where I made my own stock at the beginning by simmering chicken stock with carrots, herbs, celery and onions. And, I added fresh chopped sage and lemon juice to the meatballs and sauteed them in a dry frying pan just until they were browned to give them a more pleasing color. Then I added them to the broth with the spinach (used frozen chopped) and orzo (I just love orzo). I also added crushed tomatoes, fresh minced garlic, lemon juice and parmesan cheese at the very end and simmered for another 5 minutes or so. Made garlic parmesan toast to go along with it. I love the recipe - and am so glad I found it!
In medium bowl combine, meat, egg,bread crumbs, parmesan cheese, basil& onion powder; shape into 3/4" balls.
In large sauce pan, heat broth to boiling; stir in spinach, orzo, carrot& meatballs.
Return to boil;reduce heat to medium.
Cook at slow boil for 10 minutes or until orzo is tender.
Stir frequently to avoid sticking.
Serve with additional Parmesan cheese sprinkled on top.