Katzen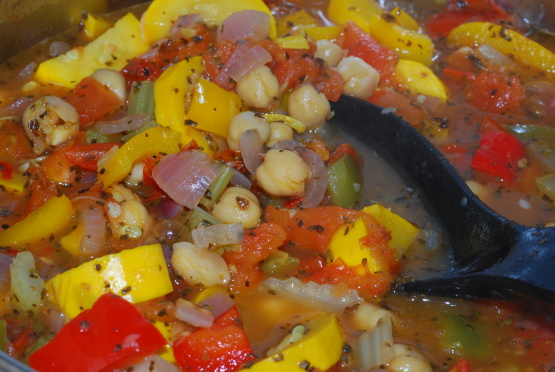 I found this recipe in a Canadian Living Magazine, which calls for vegetable marrow. I wondered what this vegetable was, as I'd never seen it before. Turns out it is a relative of the zucchini, and zuchini or yellow squash is easily substituted. The stew, with a few small modifications, turned out delicious, and the juices are perfect to sop up with some crusty italian bread.

This was very good! Warm and filling, with a little zip from the hot pepper flakes. I used the zucchini option, dried basil, and broth. I also omitted the salt (personal preference). I wasn't sure when to add the tomatoes, so I put them in with the potatoes since I figured the extra liquid they would make would be needed during the simmering time. Thanks for sharing!
In dutch oven or large pot, heat oil over med-high heat; saute onion, garlic, celery and bay leaf until softened, about 3 minutes.
Add vegetable marrow or zucchini, green and red peppers, and hot pepper flakes; cook until vegetables begin to soften, about 3 minutes. (Add basil in at this step if using dried.).
Add stock or water; cover and bring to a boil. Add potatoes & tomatoes, reduce heat, cover and simmer until potatoes are tender, 20 to 30 minutes. Add drained chick peas. Stir in salt and pepper and fresh basil (if using fresh.) Discard bay leaf.