Whipper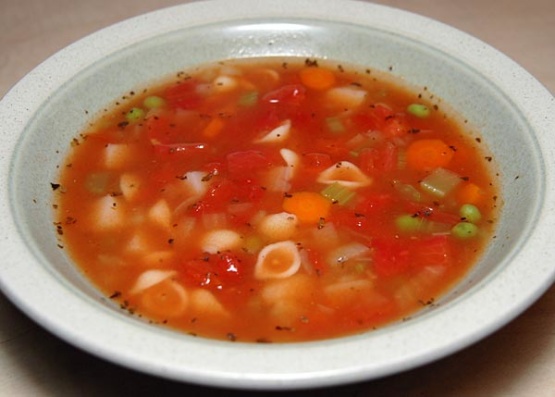 Easy homemade soup after a busy day. The Italian seasoning gives it a wonderful flavor. I like to eat it with croutons in the soup or served with a crusty bread.

Really superb- tasty, healthy, fast! I made a double-batch today to go with my lunches this week. Ready in less than 30 minutes- I can't wait to make this all fall/winter long-what a great, filling addition to my diet! I made one change out of necessity, I found I had 1/2 of a large can of garlic/onion spaghetti sauce leftover from an earlier meal, so I threw that in the pot instead of the diced tomatoes. Really glad I did, added a nice, rich color and a well-seasoned taste. I'll do that next time as! Thanks Anissa!
In a large saucepan, combined the first nine ingredients.
Bring to a boil.
Reduce heat; cover and simmer for 15-20 minutes or until vegetables are crisp-tender.
Add the pasta and tomatoes; heat through.
Discard bay leaf before serving.