Cynna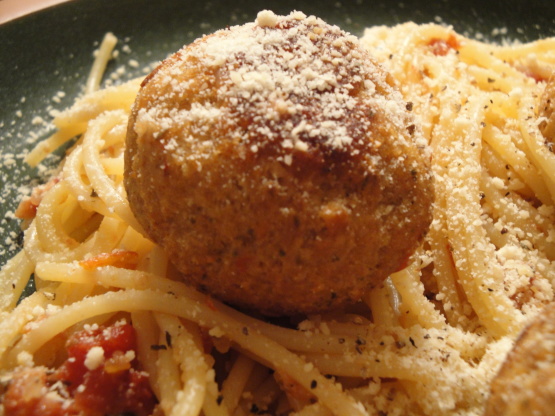 I stole this recipe from a vegetarian woman I worked with from Italy. One of my first and favorite recipes.

Top Review by Cynna
I liked the flavor in these. I goofed a bit and only used 12 ounces of tofu (it was just one package) to the one cup of breadcrumbs, so they came out sort of bready (not a word, I know). I baked them in a muffin tin and they browned up really nice and I didn't have a hard time turning them over when the time came. Ultimately the taste was good, the texture was acceptable. I will definitely make these again and remember to go lighter on the breadcrumbs.
Preheat oven to 350.
Drain tofu well and cut into several large cubes. Put the tofu into food processor with garlic cloves and grind until combined. Put tofu mixture into a bowl and mix with the ricotta, egg, parmesan (if using) and gradually add breadcrumbs until you get a workable consistencey- you may need less or more. Mix thoroughly and add salt (about 1/2 teaspoons or so) and fresh pepper. Form balls out of the mixture (about 1.5 inches) making sure they are held together well and roll in the remaining breadcrumbs (if you need more breadcrumbs just use more).
Grease a baking sheet and place the tofu balls on the sheet. Bake for 35-45 minutes, until form, carefully turning halfway through.
Serve as is, with tomato sauce, pesto or my favorite -- over spaghetti.