GaylaJ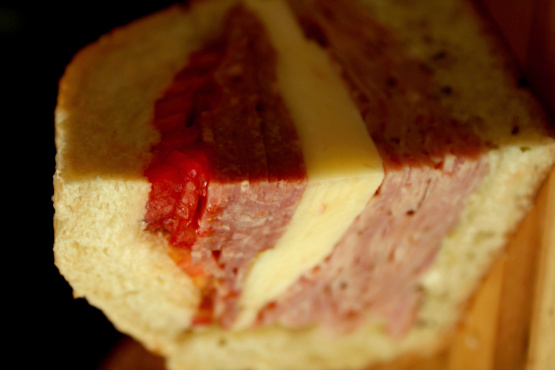 I baked the sub at 350º for about 20 minutes until the sub was hot and cheese was melting since we like our subs hot. It is quick and easy to make and you can add more meat and cheese if desired. I also topped the sub with shredded lettuce. Onions would be another nice addition.

Top Review by GaylaJ
Good sandwich! I served it cold, since I made it for a picnic, but it would also be wonderful served hot. I put it all together a couple of hours ahead of time, wrapped the sandwich tightly, weighted the top to compact it a bit, and refrigerated until I was ready to pack the cooler. Since I made it early, I added the tomatoes last to avoid any chance of them making the bottom crust soggy. I used a boule, so I cut in wedges to serve. I think red onions would be a wonderful addition, as well as the lettuce you used, or perhaps some sliced, pickled pepperoncini. (I would have to be a little less piggish with the meat and cheese or use a larger loaf of bread, though, as I packed the original filling ingredients in as tightly as I dared. :)) This sandwich was a tasty part of our picnic--thanks for posting!
Cut bread in half lengthwise. Hollow out the bottom half, leaving a 1/4 inch shell.
Brush oil over cut sides of bread. Combine the Parmesan cheese and the oregano and sprinkle over the bread.
On the bottom half, layer tomato, ham, cheese, and salami. Replace bread top and slice before serving.