Italian Style Tuna Spread

This is a quick, healthy alternative to the usual tuna salad with mayonaise. Depending on your personal likes or dislikes of vinegar, I would suggest to add the vinegar gradually according to your taste. I prefer to make a sandwich with toast that has been lightly buttered with margarine.
Directions
Drain Tuna , sqeezing out water.
Mash the tuna in a small bowl and add the rest of the ingredients. Serve on bread or toast.
Reviews
Most Helpful
Really good! Very different from my usual tuna recipe. Crazy quick to make. I served it as a sandwich on lightly toasted bread, thin sliced onion and green leaf lettuce. Thanks for posting the recipe.

This was a healthy, simple alternative to regular tuna salad. I made this exactly as posted, using red wine vinegar (which was not overpowering at all) and ate this on seeded toast. The tuna does not bind quite as well as with mayonnaise, but it is very tasty. Thanks for sharing. Made for Spring PAC 2013.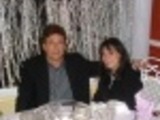 Wow! What a great change from using mayo and so much more healthy for you. I used Heinz red wine vinegar (my favorite), added some capers and served on whole wheat toast as an open face sandwich. I really enjoyed this. Thank you for posting this recipe!