Italian Style Stewed Tomatoes
Bonnie G 2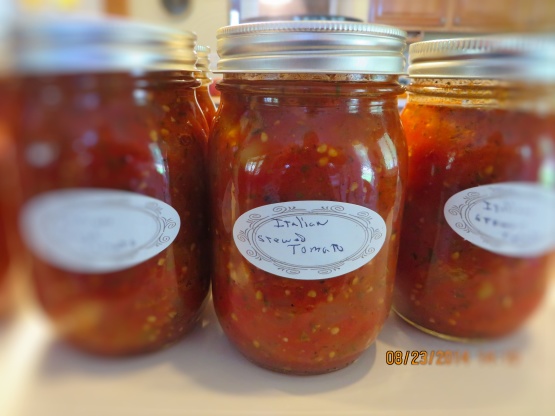 I was looking to make stewed tomatoes that's close to store brands. I think I did it.

Excellent stewed tomatoes and easy to preserve!! I wasn't sure about the number of tomatoes to use, I had 15 romas and the result was a little heavy on the herbs and salt. I will make adjustments when adding these stewed tomatoes to recipes and next time will use more tomatoes. I love the clear step by step directions which made it easy for a preserving rookie like myself!! Thank you so much for posting!
X the bottom of tomatoes and place 8 in boiling bath of water for about 15 to 30 seconds or until the skin starts to lift up. Then place in ice filled water bath immediately after you take them out.
Peel and quarter tomatoes. Place in a large mixing bowl.
Sauté garlic in olive oil for 2 minutes.
Add onions, peppers, and celery stir till oil gets on all veggies.
Add Vinegar.
Add spices and sugar, simmer for 5 minutes.
Add tomatoes and simmer for 45 minutes.
Wash canning jars and lids.
Place lids in warm but not boiling water to soften the rubber.
Boil water in large pot to place jars into seal.
Boil in bath for 20 minutes then remove tighten lids and flip on their tops.
After 15 minutes flip back and they should be sealed. If not sealed repeat bath.
Store in cool place.