Italian Style Pork Cutlets
mianbao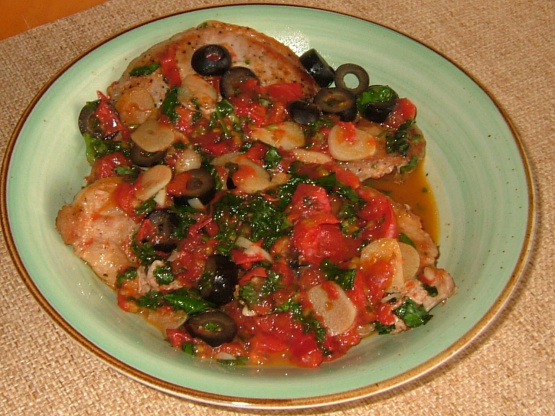 Easy, quick and delicious. These spicy and tender cutlets are good enough for company. Serve with crusty bread, a leafy salad and buttered pasta with a bit of the sauce on top.

This is nice! I did scale the recipe, cooking only two cutlets. I may have had a little more sauce because I used two smallish tomatoes. I also returned the pork to the pan to cook a little in the sauce before adding the basil, parsley and olives. And I definitely would not treat them as optional. This is very fresh-tasting, I quite liked the thinner sauce. Takes all kinds, I guess.
Salt and pepper pork and sauté quickly in 3 TB olive oil in hot pan for about 1 min per side…they will not be brown.
Remove pork from pan.
To same pan add garlic and pepper flakes adding a little more oil if needed.
When garlic is golden add wine, chicken broth and tomatoes.
Simmer until tomatoes break down and sauce thickens…add more broth if needed.
Add more oil if needed to create silky, slightly thickened sauce.
Add parsley and serve at once.
(Add basil and olives if using.) Whole process should take 5 minutes.