Italian Style Broiled Tilapia
Steve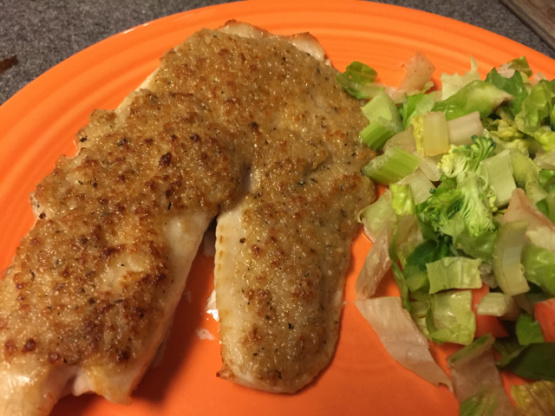 These are fabulous and easy enough for a quick weeknight supper. Serve with Rice Pilaf or Risotto and a nice glass of Chardonnay!

Top Review by MandAs
I made this in around 15 minutes start to finish. It was very easy. I did leave out the mayo and adjust the seasoning blend a touch, but it was still delicious. I never even turned the fish. Just slathered on the mix and broiled for 6 or 7 minutes. It left a thin but very crispy crust on the fish. In that 6 minutes I made some veggies and dinner was done!
Preheat your oven's broiler. Spray a broiling pan or aluminum foil with non stick cooking spray.
In a small bowl, mix together the Parmesan cheese, butter, mayonnaise and lemon juice. Season with dried basil, pepper, onion powder and celery salt. Mix well and set aside.
Arrange fillets in a single layer on the prepared pan. Broil a few inches from the heat for 2 to 3 minutes. Flip the fillets over, and broil for a couple more minutes. Remove the fillets from the oven and cover them with the Parmesan cheese mixture on the top side, then Sprinkle with Old Bay Broil for 2 more minutes or until the topping is browned and fish flakes easily with a fork. Be careful not to over cook the fish.
Wine Tip.