Italian Stuffed Tuna Sandwich (Ww)
Redsie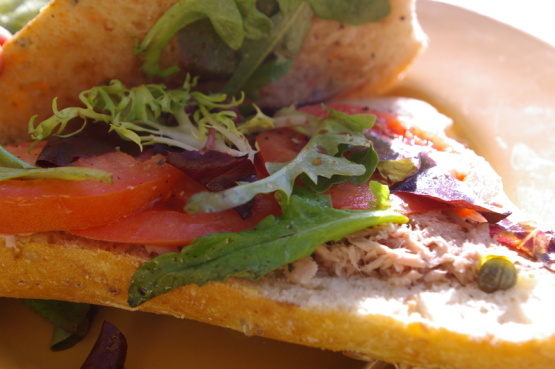 This sounds interesting with the addition of capers. From Weight Watchers Slim Ways Hearty Meals.

Boy did this ever hit the spot on a hot and humid day. I have always loved capers in tuna so I know that this was going to be a hit right off. Mixing it together works really well because it helps to keep the filling from squishing around in the bread, very nifty and delicious. :D
To prepare salad, in medium bowl, combine lettuce, tuna, onion and capers; set aside.
To prepare dressing, in small jar with tight-fitting lid or small bowl, combine vinegar, oil, garlic, oregano, pepper and salt; cover and shake well or, with wire whisk, blend until combined.
Pour dressing over salad; toss to combine.
Split bread lengthwise almost all the way through; spread open.
Line bottom half of bread with tomatoes; top evenly with salad mixture.
Replace top half of bread to enclose.
Wrap tightly in plastic wrap; refrigerate 2 hours, until chilled and flavors are blended.
Cut loaf crosswise, through plastic wrap, into 4 equal portions.
SERVING (ONE-FOURTH OF LOAF) PROVIDES: 1 Fat, 3 1/4 Vegetables, 1 Protein, 2 Breads.
PER SERVING: 310 Calories, 8 g Total Fat, 1 g Saturated Fat, 24 mg Cholesterol, 759 mg Sodium, 37 g Total Carbohydrate, 4 g Dietary Fiber, 21 g Protein, 102 mg Calcium; 6 points.