twissis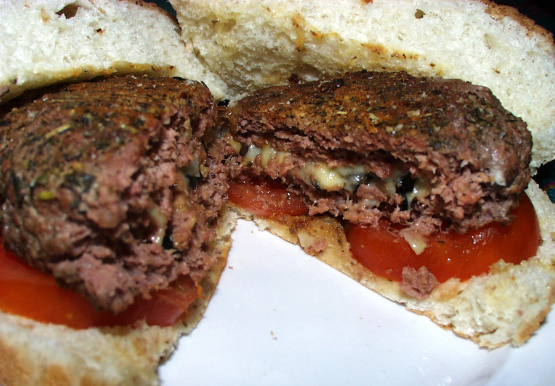 Yummy burgers stuffed with mozzarella, onions and olives.

This was a good stuffed burger recipe. I liked the filling combination. I use frozen garlic bread slices baked on the grill for buns and that brought it up from 4 stars to 5. Next time I'll try the marinara and maybe provolone for the cheese. made on behalf of the Daffy Daffodils for ZWT4.
In small bowl, combine cheese, olives, and onion.
Shape ground beef into eight patties, approximately 4 1/2-inch diameter.
Place approximately 1/4 cup of cheese mixture in center of four patties; top with remaining patties. Press edges firmly together to seal; gently pat to 3/4-inch thickness.
In small bowl, combine Italian seasoning, garlic powder, and pepper. Press evenly into both sides of each patty.
Place patties on grill over medium, ash-covered coals. Grill, uncovered, 22 to 24 minutes to medium doneness (160 degrees) or until centers of patties are no longer pink and juices show no pink color; turn occasionally.
Season burgers with salt, as desired. Line bottom of each roll with one tomato slice; top with burger.
Add choice of toppings, if desired.