Italian Stuffed Bell Peppers
Boomette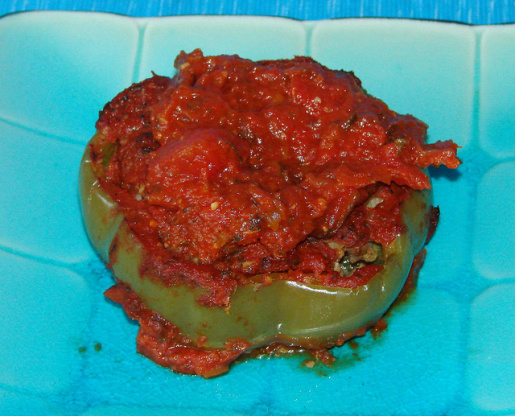 This is the recipe my mom always made when I was little, in my Italian family in NJ:) It's very simple but delicious, and I find the simplest recipes are always my favorites.
Italian style stuffed peppers are my favorite. With mine I add chopped onion, mozzarella cheese, bread crumbs, and a little Italian salad dressing to add moisture and flavor to the meat. I also sprinkle mozzarella cheese on top of the sauce and use other peppers than just green. Making it right now with orange peppers.
In a large bowl mix together the cooked rice and the raw ground beef.
Add the egg, salt, pepper, and garlic powder to your taste, and mix very well.(I find it's best to mix it with your hands like meatloaf.).
Prepare the peppers by cutting them in half from top to bottom like an apple, so you have two identical halves. Take off the stem and remove the seeds.
Fill the pepper halves equally with the rice mixture. Set them down in a 13x9" baking pan that you have put a little of the sauce on the bottom of first.
Generously spoon sauce over the stuffed top of each pepper and then pour the remaining sauce around the peppers in the pan.
Sprinkle the top with salt, pepper, and garlic powder.
Bake at 350°F until the peppers are very soft and tender when tested with a knife.(depending on your oven maybe an hour or so; mine takes longer because my oven is ancient:).
Spoon the sauce over the peppers at least three or four times while they are cooking. The sauce will thicken slightly as you bake the peppers and get delicious and rich.
Enjoy!