Italian Spinach and Sausage Soup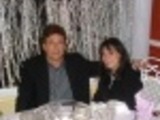 This is a very quick soup that makes a nice presentation at your dinner party or holiday meal. There are very few ingredients, yet it yields a very flavorful soup. It also makes a complete meal with some crusty bread and a salad. I am not a fan of fennel seed, so I have always omitted it, but the original recipe calls for it, so I won't impose my tastes on everyone!
Directions
In saucepan, combine all ingredients except for cheese. Bring to boil.
Reduce heat. Simmer, covered, 15 minutes.
Serve with grated Parmesan sprinkled on top.
Reviews
Most Helpful
Quite good, especially given how fast it is. I browned my sausage and must have had the leanest bulk Italian sausage in the state - no drippings. So I added a little olive oil to the pan and sauteed my onions - I prefer that to just simmering them. I did use some fennel seeds, but would use less next time I buy the chopped spinach, rather than the frozen blocks, and added that at the very end.

Made for KK's Forum Fall Mini Cookathon. Made this exactly as the recipe given, even with the fennel seed which I happen to love. BTW did you know that Italian Sausage (Sweet and Hot) has fennel seeds in it normally? This was a bit salty, but that could be the chicken broth and next time I make it I will use low sodium broth instead. Otherwise this is really tasty, and nice warm up to a very cold day. Thank You for the recipe.

Very good soup! I wanted to make this for lunch, so I added 1 1/2 cups of ditalini (and 64 oz's chicken broth) to make it more hearty. The flavor was wonderful. The only reason it's not a 5-star recipe for me is because I wasn't a big fan of the fennel and I'm not absolutely crazy about chunks of sausage in a brothy soup. But I'll get over that and leave out the fennel (as you do), and I'm sure it will be just right. Thanks for a keeper! :-)