Italian Spaghetti With Meat Sauce
Ycooks2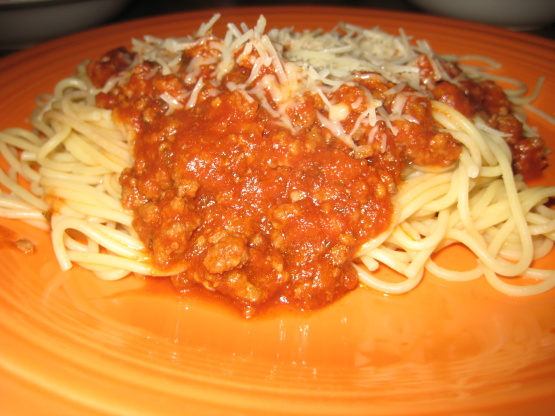 This recipe comes from my family's cookbook, and I think was submitted by my aunt. The slow cooking is what gives the sauce its great flavor, but don't add too much spaghetti to the sauce or you won't be able to taste it. You could also just dish the sauce onto the spaghetti, instead of combing them. This is a great dish to make when you need to feed a lot of people, because it makes a ton of food. Don't forget to take out the bay leaves!
Brown hamburger and onion in dutch oven or large pot.
Add all other ingredients and stir well.
Cover and cook over medium-low heat, partially covered (allow steam to escape) for about 3 hours, stirring frequently.
About 1/2 hour before serving time, cook the spaghetti noodles according to package directions.
Remove the bay leaves from the meat sauce and combine with pasta.
Add cheeses just before serving.