gick561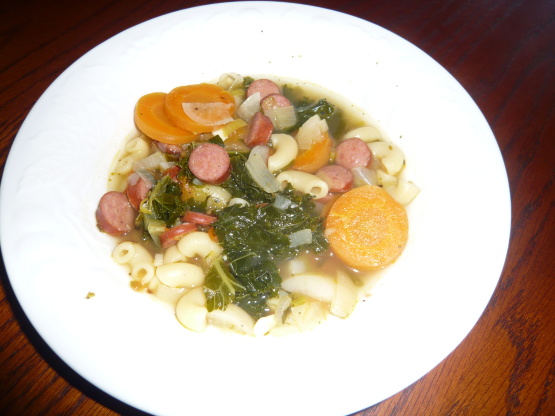 Just something I threw together on a chilly evening using ingredients I had on hand. Not a true minestrone, but that was my inspiration. Served with a hearty bread it makes a complete meal.
In a 5 or 6 quart dutch oven over medium heat, brown the sausage, breaking it up with a large spoon. After the meat starts to brown, add the red wine vinegar. (It will make the sausage easier to break into small pieces.).
Add the olive oil, onion, leek, and carrots, and cook over medium until the vegetables begin to soften.
Add the dried herbs, zucchini and garlic, and cook for several more minutes. (The heat should be high enough that there is some browning on the bottom of the pan.).
Add the can of crushed tomatoes and cook for about five minutes.
Add the broth, beans, and salt and pepper to taste.
Reduce heat and cook at a low simmer for at least one hour. Longer cooking will produce better flavor.
Raise the heat until the soup begins to bubble. Add the kale and pasta, and cook for 15-20 minutes until the pasta is soft.
For a thinner soup, add one cup additional broth or hot water during cooking.