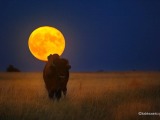 Why buy convenience foods when it's so easy to make your own one-dish macaroni-hamburger meal? Quick and easy. Adjust seasonings to your taste. Adapted from "Fast & Easy Cooking" by Johanna Burkhard.
Directions
In a large nonstick frying pan, brown ground beef.
Add onion, garlic and basil.
Cook and stir for 2 minutes.
Add tomato sauce and broth.
Bring to a boil.
Add macaroni.
Reduce heat, cover and allow to cook for 5-7 minutes.
Stir in zucchini or green beans.
Cover and cook, stirring occasionally, for 5-10 minutes or until macaroni and zucchini are tender.
If needed, add more broth.
Reviews
Most Helpful
4 1/2 stars - very good and easy meal. I used wide egg noodles instead of macaroni, only because it was the easiest way to get rid of one MORE box from my pantry!
Not bad. I didn't have any zucchini so I used green pepper. Also added some red wine. This is the kind of meal that you can just make up on your own. Not exceptional but ok.
This is a great recipe for using things on hand, and very easy. I made a few changes - I put half the onion in while browning the meat, used 1 zucchini, but some green pepper also, and used these Barilla Pipettes I had in the house. Little shredded mozzarella and some Parmesan on top, and a bakery baguette to sop up the juice - yum! It's a keeper! Thanks!