Marlene.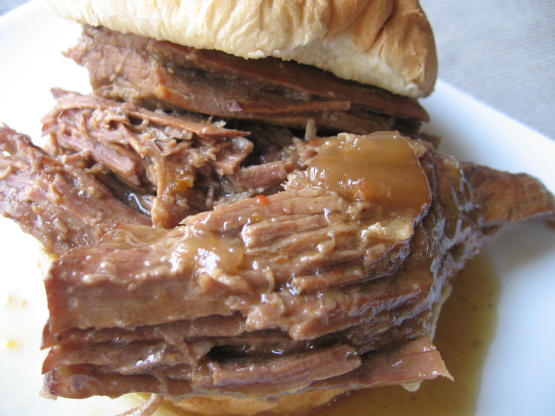 Another delicious recipe from my friend Hazel. When she served this everyone around the table was going "mmmmm"! I have served this MANY times and always get asked for the recipe when I do. This isn't a fast recipe, but well worth the time it takes to make it!

Out of this world delicious!! The flavor or the broth, burgundy wine and Italian dressing was scrumptious. I couldn't stop tasting it. The meat was very tender and easy to shred. I used toasted onion rolls to make the sandwiches with. Delicious! I just added a salad and a glass of merlot for the adults. Thanks for a great meal.
Brown the beef in a small amount of oil until nice and brown.
Add the remaining ingredients.
Simmer until the beef is very tender and starts to shred, a MINIMUM of 3 hours.
Check as it simmers to make sure it doesn't dry out.
Adding more water, wine, or beef broth as needed.
But not until necessary.
Serve on crusty hard rolls.
We sometimes like to add sauteed pepper strips and a slice of Provolone cheese.