Italian Sfingi (Italian Doughnuts)
Baker30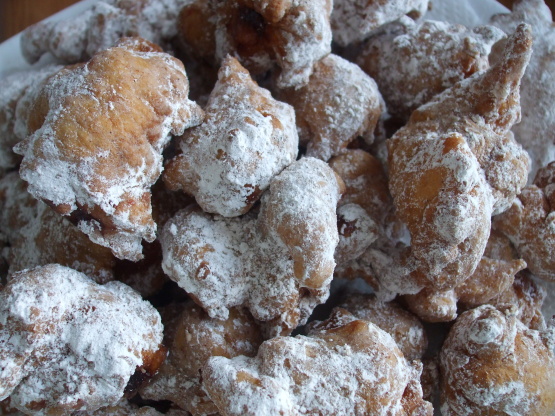 These Sicilian doughnuts are delicious served warm! The recipe comes from one of my favorite cookbooks titled "Cucina Deliziosa", which was compiled by the Charity Guild of Saint Joseph in Houston, Texas.

Wow, I was so impressed with the recipe. Not only was it simple but the results where wonderful! They cooked beautifully,they turned over exactly the way you described,and they were light and fluffy and the texture was amazing. I think when I make them again I will add a pinch of salt and a bit more of sugar in the batter. The sugar both granulated and powder didn't stick well so we kind of rolled them. Considering they were not greasy at all. This was the first recipe I found and the one I will continue to use more often than just, New Years tradition. I have my mothers recipe and have made it for 44 years but wanted a change. Thank You, Cathy
Mix flour, sugar, and baking powder.
Add eggs, water, and vanilla; mix well.
Drop batter by tablespoons in hot, deep oil.
If oil is hot enough, sfingi will cook and turn over without help.
If not, turn with a large spoon to brown on both sides.
Add as many sfingi that will fit in skillet or deep-fryer.
Fry until golden brown.
Drain on paper towels.
Combine powdered sugar and cinnamon.
Sprinkle warm sfingi with powdered sugar and cinnamon mixture.
Delicious served warm!