Italian Sausage with Tomatoes and Penne
Marlene.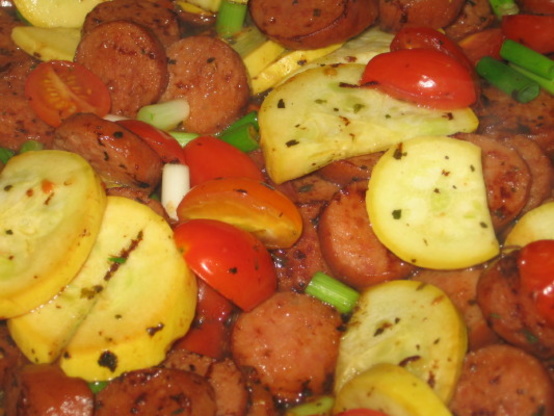 I used zucchini instead of yellow squash, spaghetti noodles since I had no penne, Sweet Italian turkey sausage and chicken broth, and used light Italian salad dressing instead of the olive oil. It sounds like I didn't even make the dish doesn't it!Anyway, it was delicious! It is a great departure from the marinara or alfredo sauce pasta dishes. Using the turkey sausage and Italian dressing instead of olive oil cut WAY back on the fat and calories too. My entire family loved it and I will make it again!
Prepare pasta according to package directions.
Spray a large skillet with non-stick cooking spray.
Over medium heat, cook sausage for 4-6 minutes or until browned.
Add in broth and stir; cover and cook 5 minutes.
Add in squash, tomatoes, and 2 tablespoons of the basil.
Bring to a boil, lower heat, cover and simmer 5 minutes, stir occasionally.
Add in onions; simmer uncovered for 1 minute.
Check seasoning to taste, add salt/pepper if desired.
In a big mixing bowl, add cooked penne, oil, and remaining basil; toss to coat.
Spoon pasta into individual serving plates or bowls; top with sausage mixture.
Sprinkle with Parmesan cheese if desired.