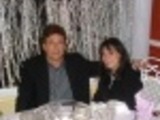 This recipe is a little bit different than all the other Italian Sausage Soup recipes that I see posted here. While it is rather rustic in appearance, it tastes elegant enough for entertaining. A pot of this on the stove, a crusty loaf of bread, and a nice glass of wine will soothe your soul on any winter night!
Directions
Combine beef stock and steak sauce in large soup pot. Bring to a boil, then simmer.
Meanwhile, in large skillet, heat oil and add sausage links. Fry until browned on all sides, turning often. Cool sausages and slice 1/4-inch thick. Drain all but 2 T. fat from skillet.
Add sausage slices, onions, green pepper, and garlic to skillet. Saute until onions are tender, but not browned. Add sausage mixture to stock mixture in soup pot.
Add wine, tomatoes, zucchini, basil, oregano, and parsley. Bring to a boil again. Add pasta and simmer until pasta is tender, about 12 minutes, stirring soup occasionally. Season with salt and pepper, then top with shredded cheese.
Note: Add more beef stock if a thinner soup is desired.
Reviews
Most Helpful
Well, gosh, this is good. Even with the substitutions I needed to make. I used chicken broth because I had no homemade beef, and the commercial beef broths do not please me. I use a bit of Worcestershire sauce instead of steak sauce, some red bell pepper instead of green, and some frozen Italian veggie mix instead of the zucchini which are hiding from me somewhere in this house? Oh, and fusilli instead of bow tie, each of which I broke in half, as sweetie likes fusilli or rotini best. My tomato just was not optimal, even though I bought it several days ahead of time. I did use it, but then added a few tbl of tomato paste to make sure that I had good tomato flavor. I think anyone would enjoy this soup.