Ms B.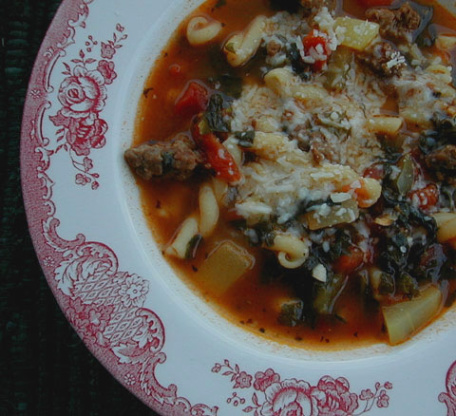 Found this quote on the back of an Italian lentil soup mix years ago... Soup does seven things: It appeases your hunger, slakes your thirst,fills your stomach, cleans your teeth, makes you sleep, helps you digest and puts color in your cheeks. Well.... it might! =) Hope you enjoy this soup. This recipe freezes well,also.

I made this recipe last evening. I used a 15 ounce can of beef broth and enough water to make 3 cups liquid. Used dried parsley instead of fresh.I will make this soup again. Thanks. Joy in Kansas
Split casing on sausages, remove meat and discard casing.
Brown sausage, garlic and onion in Dutch oven, over medium heat until sausage done.
Stir frequently to break sausage apart; drain.
Stir in tomatoes, broth, water, pasta, green pepper and parsley.
Cover and heat to boiling; reduce heat and simmer 5 minutes.
Stir in zucchini; simmer an additional 5 minutes or until pasta and zucchini are tender.
Pour into soup bowls; garnish with fresh grated Parmesan cheese.