WiGal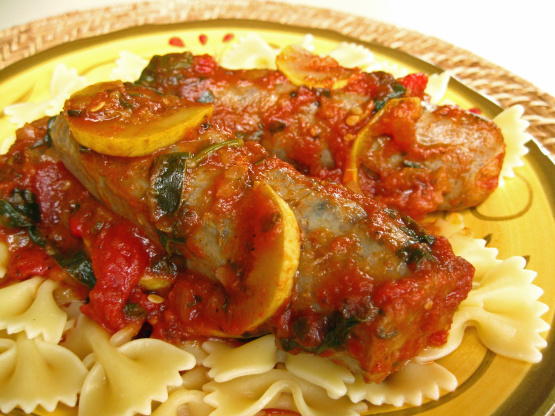 Italian sausage and vegetables all ready together in a crockpot ready to serve atop a pile of pasta or stuffed into hoagie rolls for sandwiches. A good meal for a big family or just what you need when you've got a hungry crowd over on game day or race day. Easy to halve for a smaller crowd.

Top Review by WiGal
Expected this to be great and it certainly was! DH was putting his thumb up before the second bite. LOL! And smells divine. Super convenient for our busy day. I lined my crock pot with a liner that I had bought on Amazon-easy peasy clean up. I made a half batch that was done in 3 hours on high but I do have an old crock pot. I used fresh spinach instead of frozen and lots of pepper on the yellow squash. My sauce was Classico-the basil and roasted garlic one. I plan on incorporating the leftover sausage into Recipe#101435 and the sauce into a vegetarian pasta. Thank you 3KillerBs for an awesome recipe!
Prick sausage all over.
Put sausage into large pot, cover with cold water, and simmer for 10 minutes to extract excess grease. This can be done the night before.
In 6-quart oval crockpot layer half the sausage and half of each other ingredient. Repeat.
Cook on high for 3 hours then on low for 3-4 hours.
Serve over favorite pasta (I used bowties tonight), topped with parmesan. Its low-carb if you control the pasta quantities.