Parsley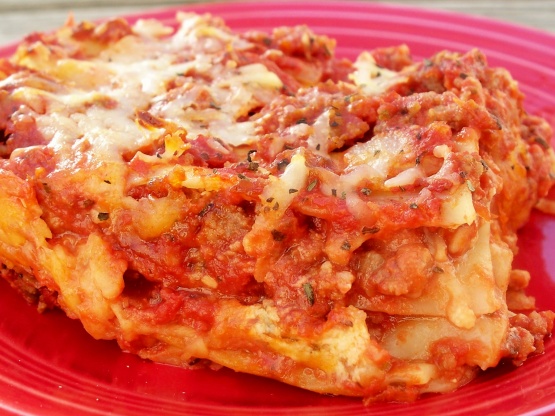 Another recipe of mine that I have tweaked over the years, that will probably change again!

This is a very delicious lasagna! I'm so happy I made it. It will be something we enjoy for years to come!
Crumble Italian sausage into a large skillet. Brown sausage until no longer pink and drain onto paper towels. Wipe out skillet with paper towels. Add 1 tablespoon olive oil to pan and heat until shimmering. Add onion and saute until translucent.
Stir in the cooked Italian sausage, tomatoes (undrained), tomato paste, sugar, half of the basil and the pepper. Bring to boil then reduce heat and simmer uncovered for 20-30 minutes, stirring occasionally and breaking up the tomatoes with the back of a spoon.
In a small bowl blend ricotta, egg, parsley, Parmaigano-Reggiano and 1/2 teaspoon salt.
Put a layer of noodles in a 9 X 13 pan, a layer of meat sauce, layer of ricotta mixture and a layer of the cheese then repeat all the layers twice more. Cover with foil.
Bake at 375 degrees for 30 minutes. Uncover and bake 20 minutes more. Let stand 10 minutes before cutting and serving.