Heydarl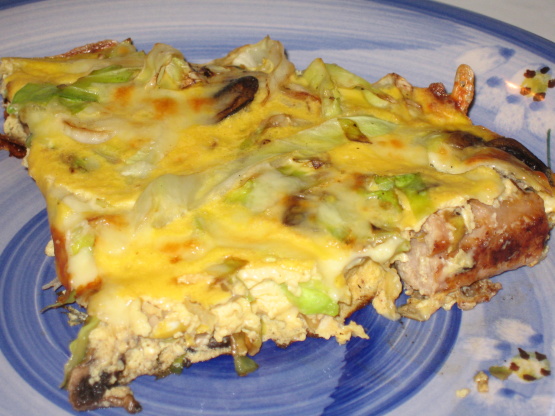 This can be served for breakfast, brunch, lunch or dinner. It's a fairly simple recipe with ingredients that are easily found in the grocery store! I personally use the Spicy Turkey Italian Sausages when making this recipe although it calls for mild.

My MIL gave me some chard so I decided to use some in this recipe. I scaled it down for just me and my husband and did a version of this as scrambled eggs. He loved it and I am still not sure how I feel about chard. Anyway, there are a lot of great flavors going on here. I think we will be making this again. Good healthy stuff! Made for my Babes for ZWT4.
Preheat oven to 350 degrees.
Brown sausage in sauce pan and drain.
Spread evenly over bottom of 9 x 13 baking dish.
Sauté mushrooms and garlic in butter until almost all liquid is absorbed (you can add a few dashes of white wine at this stage if you prefer.
Spread mushrooms over sausage.
Layer swiss chard and cheese over mushrooms.
In bowl beat the eggs, milk and Dijon mustard and pour evenly over all.
Place in oven on middle rack, bake uncovered for 1 hour, (or until middle is firm to touch).
Remove from the oven, cover loosely with foil, and let stand 15-18 minutes. Divide and cut into serving sizes.
Top with green onions or sour cream (or both) if you desire.