Italian Sausage Crustless Quiche
Prep 20 mins
Cook 45 mins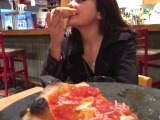 In the mood for a savory egg dish? Spicy Italian sausage and smoky Provolone make a delicious quiche perfect for breakfast or lunch with a big green salad.
Directions
Preheat the oven to 375 degrees.
Mix the eggs and milk together and whisk well.
Sesaon the egg mixture with salt, pepper, and herbs.
Spray the oil into a deep pie dish.
Layer the sausage and cheese and red pepper into the pie dish and pour the egg mixture on top.
Pop into the oven and bake until middle is firm, about 40-45 minutes.
Serve with hot Italian bread.
Reviews
Most Helpful
This is very tasty. I made for dinner and served with a salad. To reduce the calories I used FF milk, which I would advise against. I think using FF milk made it watery upon cutting. Kind of strange. In any case, it still was VERY satisfying and I will be making again but use a higher fat milk next time. Provolone is a perfect choice of cheese for this. Thanks Trinkets!

This was an easy weeknight dinner that worked for my gluten free diet as well. Two Italian turkey sausages cooked and crumbled made 1 cup for me. I used shredded mozzarella because that's what I had in the house, but I think I'll go with provolone next time because my quiche needed a little more flavor. Also, I cooked it for the full 45 minutes and while it was cooked all the way through, it was still a little soft set for me. Next time, I'll cook it so it's firmer all the way through. I served this with Gluten Free Cheddar Dill Scones. Thank you for posting!

I cut the the milk down to 1 cup. Most recipes for quiche using 4-5 eggs only require 1 cup liquid. I make quiche often and I have never used this much milk. It could be why some thought it was very loose and watery.