Italian Sausage Casserole
Bergy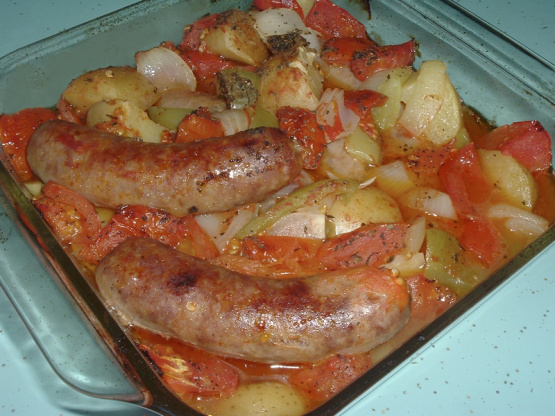 All in one dish casserole of Italian sausage, peppers and potatoes in a tomato sauce that goes together quickly and is delicious!

We really enjoyed this easy -to-make casserole. I made it exactly as directed and it turned out great! However, I used fresh pork sausage which I had in the refrigerator; it was good but I think using the Italian sausage as listed in the recipe will taste even better, so that's the way I'll be making it next time. Thanks for sharing your recipe!
Brown sausage in saute pan, then place in 9x13 baking dish.
Place potatoes, peppers, onion and garlic on top of sausage.
Pour crushed tomatoes over and sprinkle with basil, salt and pepper to taste.
Cover and bake at 350 degrees for 50 minutes or until done.
Remove cover and bake 20 minutes more.