Italian sausage-Broccoli Quiche
Barb G.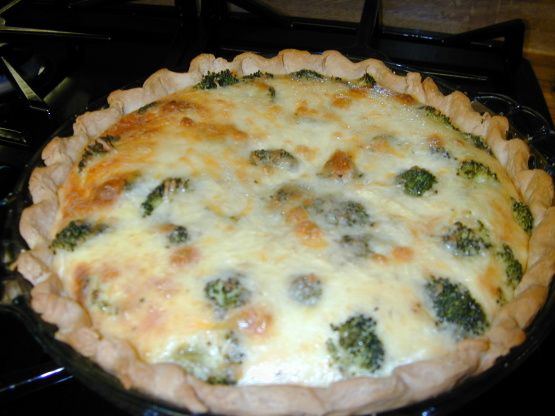 This is a hearty quiche that can easily pass for dinner when served with salad and rolls.

There was nothing left to take home after the party!!! Thanks for the great recipe. Only thing I would change is to mix all the ingredients together before pouring instead of layering them. Otherwise, perfect.
Heat olive oil in a skillet; add sausage, garlic and onions and saute until brown.
Remove from heat and slice sausage into smaller pieces.
Arrange meat mixture in the pie crust; add broccoli and 3/4 cup cheese to the pie crust.
In a bowl, beat together eggs and half-and-half.
Pour egg mixture slowly over ingredients in pie crust, being careful not to pour above the ridge of the pie pan.
Sprinkle remaining 1/4 cup cheese on top.
Place in center of preheated 350° oven and bake for 45 minutes.