Italian Sausage Banh Mi (Vietnamese Sub Sandwich)
Nif_H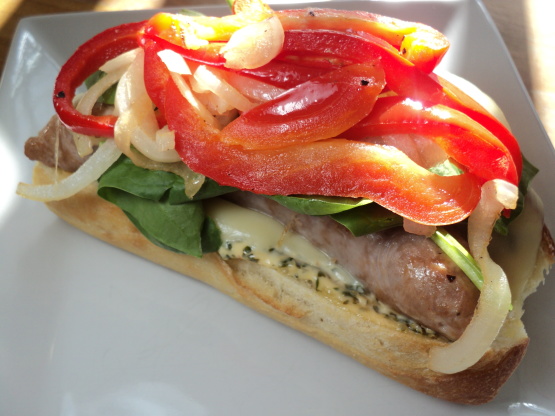 All of the flavors go so well together...Sweet, spicy, nutty and fresh. It's refreshing and satisfying. I also made it easy by preparing it in the oven. You can make this on the stove top in a frying pan if you prefer. Turkey sausage is great too, I didn't list it or the oblong crusty bread rolls because food.com doesn't calculate the calories for them. The sriracha is optional because it is a 6th contest ingredient.
Preheat oven to 350°F Lightly spray a large baking sheet.
Lay onion slices and bell pepper slices on the baking sheet and spray with oil. Sprinkle with salt and pepper if desired.
Prick sausages with a fork and place on baking sheet. Bake for 15 minutes. Stir and turn veggies and sausages at about 10 minutes so they don't burn on the bottom.
Puree sauce ingredients together. I used an immersion blender in a pyrex measuring cup. A mini food processor would work too.
Cut a wedge (making a V large enough for the sausage and veggies to fit in) out of each bread roll and spread the interior with basil sauce. You can spread the cut out wedge with sauce too or you can discard it.
Lay Swiss cheese slices over the sauce.
Place prepared bread rolls onto a second baking tray and bake for 5 minutes or until cheese is melted and bread is toasted to your liking.
Remove from oven and place sausage into prepared bread rolls, cover with onions and peppers and top with arugula.
If you saved the cut out bread wedges you can eat them on the side.