Bergy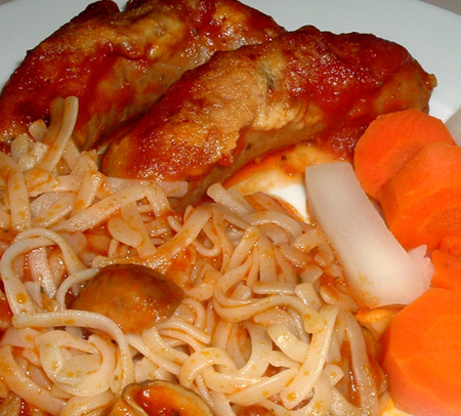 A wonderful, aromatic, warm, comfort dish the whole family can enjoy. This was a recipe from another food site that I adapted to add more flavor. It is always gone in a flash. Great for potlucks and frozen meals for friends.

Top Review by Gagoo
Made as directed with the exception of adding additional garlic. Wasn't sure if I was to add the pasta to the dish before baking or put the sauce on top of pasta after baking so I added to the sauce before and placed it all in the oven with the cheese on top. Very aromatic while baking - a nice change from traditional pasta & sauce. Thanks for submitting Snowpuma.
8

ounces ziti pasta (or similar pasta cooked according to package)

2

teaspoons olive oil
1⁄2 onion, diced

12

ounces mild Italian sausage (I remove from casings)

1

teaspoon garlic, diced (I recommend 1 tsp but like garlic a lot so go with what you prefer)
1⁄4 teaspoon fennel seed (optional)

1

teaspoon italian seasoning

6

ounces sliced mushrooms (optional)

2

(15 ounce) containersof favorite pasta sauce
1 1⁄2 cups shredded mozzarella cheese

2

tablespoons parmesan cheese (fresh shredded works best) or 2 tablespoons romano cheese (fresh shredded works best)
Preheat oven to 400 F and grease 13x9-in baking dish.
Prepare pasta according to package directions.
Heat Oil in a large skillet over medium-high heat.
Add onion and sauté until slightly transparent.
Add sausage and cook stirring frequently to break up, cook until no longer pink.
Add garlic, fennel, Italian seasoning and mushrooms.
Stir frequently and cook until mushrooms are tender.
Add sauce, stirring to mix, cook until sauce is heated through. Remove from heat.
Add to prepared baking dish and sprinkle evenly with mozzarella and parmesan/romano cheese.
Bake 15 to 17 minutes or until cheese is bubbly.
Cool approximately 5 Minutes.
To freeze ahead prepare as above but do not bake.
Cover and freeze up to 2 months.
Thaw overnight in refrigerator.
Preheat oven to 400F and bake 25 to 35 minutes.