Italian Sausage and Tortellini Soup
Linky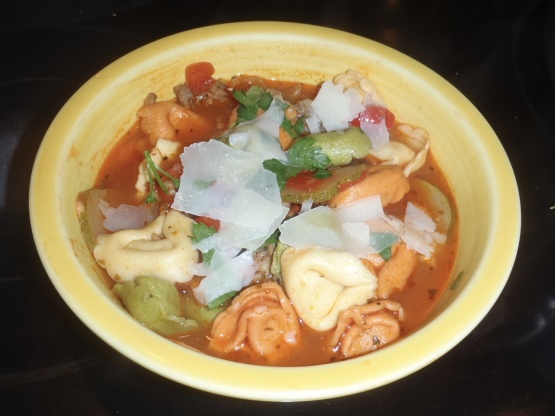 This is a delicious soup loaded with vegetables and tortellini filled with cheese and basil. You can increase the spiciness of the soup by using hot Italian sausage and adding some red pepper flakes.

What a wonderful and comforting soup! I used sweet Italian turkey sausage and wheat tortellini. Loved the rich flavorful broth and all those veggies. Hearty and delicious - thanks for sharing the recipe!
1

lb mild Italian sausage

1

cup onion, coarsely chopped

2

garlic cloves, minced

5

cups beef broth

2

cups carrots, thinly sliced

2

cups tomatoes, peeled, seeded and chopped (can use canned tomatoes, if desired)
1 1⁄2 cups sliced zucchini

1

green bell pepper, cut into 1/2-inch pieces

1

(8 ounce) can tomato sauce
1⁄2 cup water
1⁄2 teaspoon dried basil
1⁄2 teaspoon dried oregano
salt, to taste
black pepper, to taste

1

(9 ounce) packagerefrigerated basil and cheese tortellini, uncooked

3

tablespoons fresh parsley, chopped
1⁄2 cup parmesan cheese, freshly grated
Remove and discard casings from the sausage.
In a large Dutch oven, brown sausage over medium-high heat, stirring occasionally. Drain, reserving 1 Tablespoon drippings in the pan. Set sausage aside.
Add onion and garlic to the drippings in the pan; cook, stirring constantly, until onion is tender.
Add sausage, beef broth, carrots, tomato, zucchini, bell pepper, tomato sauce, water, basil, oregano, salt, and pepper, stirring well.
Bring to a boil; reduce heat, and simmer, uncovered for 30 minutes.
Add tortellini and parsley, stirring well.
Bring to a boil; reduce heat, and simmer, uncovered, 10 minutes or until tortellini is tender. Adjust spices to taste.
Ladle soup into individual soup bowls. Sprinkle each serving with cheese.