Italian Sausage And/Or Meatball Subs
Bergy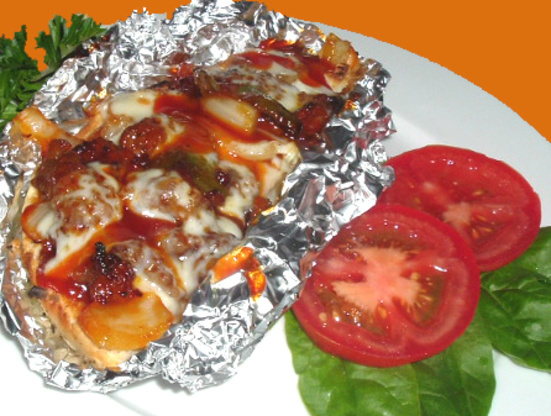 Take 2bleu's 2 Minute 2 Easy Pizza Sauce, 2 good quality Italian hoagie rolls, and good quality cheeses and dive in! This can also be made using meatballs in place of the sausage for an Italian Meatball Sub, or a half sausage/half meatball sub. :)

I tripled the recipe. We had these to go along with Recipe #86539, hot dogs and chicken on the grill at our annual Labor Day barbecue. I sauteed the onions and peppers ahead of time, and kept them in aluminum foil. I made up a pot of pizza sauce and had that heating on the side burner of my grill. I had the provolone and mozzasrella on a tray on a small table next to the grill. Everyone just made their own by grabbing a roll, and sausage off the grill, then adding onion and peppers, loading with cheese then pizza sauce on top to melt the cheese. They were awesome! The kids really loved them! Thanks for posting!
Preheat oven to 375°F Place one rack in center of oven, the other on the top shelf for broiling. Spray an 8x8 pan with non-stick cooking spray. Bake sausage on the center rack for 20-25 minutes till cooked thru, turning once.
Meanwhile, using a medium pot, heat olive oil over medium heat. Add peppers and onions, reduce heat to low and cover. Simmer for 10-15 minutes or until peppers are just soft, stirring occasionally.
Add pizza sauce and continue to simmer until sausages are cooked thru.
Create aluminum foil 'boats' around each opened sub roll and place on a baking sheet (keeping them intact and also in a boat shape to hold in the filling). Remove sausages from oven, and place the 'boats' into the oven to lightly toast (watch for burning!).
Place the links on a cutting board and using tongs (the sausage will be hot), steady the links and cut into 1/2" slices (or you can slice lengthwise) and add to the pot of sauce, stirring to coat.
When buns are toasted, remove from oven keeping the buns on the baking sheet, place the sausage mixture (reserving about 2 tbsp sauce only) on the bottom half of the bread. Top sausage mixture with provolone. To the top half, spread thinly the remaining sauce and then sprinkle generously with the mozerella cheese.
Return subs to top rack of oven and broil for 1-2 minutes till cheese is melted and bubbly. Allow to cool slightly before serving. Using the foil boats to keep the sandwich together. Just pull down from one side and dive in!