Italian Sauced Chicken over Pasta

Great for the stovetop or the slowcooker. Serve over linguine, spaghetti, or corkscrew noodles (or noodles of choice). Cook time is for the slowcooker. Stovetop methos would be about 40 minutes.
Directions
STOVETOP METHOD: In a large pot, heat olive oil. Add chicken pieces, onion, bell pepper, celery and garlic.
Cook over medium-high heat, stirring often for about 10 minutes.
Add all remaining ingredients EXCEPT pasta.
Bring to a soft boil; reduce heat, cover and simmer for 30-40 minutes. Remove the bay leaf.
Meanwhile, cook pasta in boiling water according to package. Drain.
Place pasta in 1 large plate or individual plates and serve saucy chicke mixture over top.
Sprinkle w/ parmesan cheese , if desired.
SLOWCOOKER METHOD: Place cut-up raw chicken in slowcooker. No olive oil necessary.
Mix together all reamining ingredients EXCEPT pasta; pour over the chicken.
Cover and cook on low for about 6 hours or until chicken is done. Remove the bay leaf.
When done, boil pasta in salted water per package directions. Drain.
Follow serving directions as written under "stovetop" directions.
Reviews
Most Helpful
Mmm, yummy! Very chicken cacciatore-ish tasting. Love how quick and easy it came together.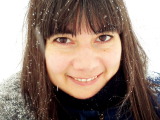 Delicious and easy to prepare! We used a little less chicken added some more cheeses and hot pepper for our taste. Thanks for sharing!

Looking for a crock pot recipe using items regularly found in my kitchen when I found this one, and it was like discovering hidden treasure. A little weary of breast meat, I have recently begun to cook more with thighs, which have a meatier flavor, and tried them with this recipe. The flavors were just fabulous complex without being confusing, and well blended with a nice mix of textures to accentuate the components held in the sauce. The experiment with thighs also worked well and the meat was perfect and tender enough to easily break with a fork. My one comment other than delectable dish was the sauce was a wee bit thin, but I slightly undercooked the (whole wheat) pasta and it did a great job of absorbing the liquid. Leftovers were served over polenta wedges and that too was great. Made for ZWT4.