Shuzbud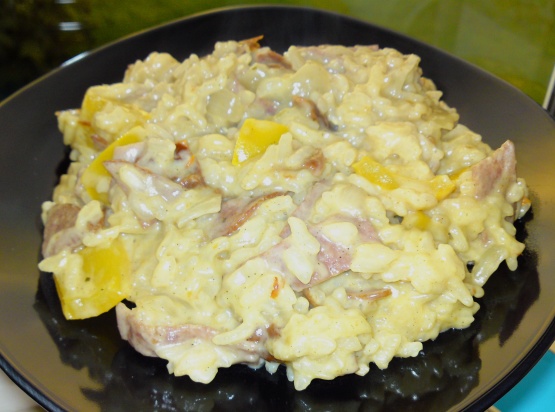 This risotto has a lovely blend of flavours and if you use a green bell pepper, it incorporates the colours of the italian flag! You can leave out the mascarpone although I love the flavour and creaminess it gives the dish. Very nice risotto recipe! It definitely hits high in my risotto recipe list. The only difference I made was using parmesan cheese in stead of mascarpone. I always love the simplicity of making risotto's! Don't understand why some people find it time consuming. Thank you :)
Heat the olive oil in a non-stick pan.
Add the salami, onion and garlic and cook over a medium heat for 3 minutes.
Add the bell pepper and sundried tomatoes and cook for a further 3 minutes.
Add the arborio rice to the pan and cook, stirring, for about 1 minute.
Add the white wine, bring to a simmer and cook, stirring, until the wine has been absorbed. While the rice is absorbing the wine, heat your chicken stock (this can be done at an earlier stage and kept warm if you prefer).
Add the chicken stock 1/2 a cup at a time, stirring occasionally. Each time, make sure the stock is absorbed before you add more or it will be a very runny risotto! The non-stick pan is important for this stage, so the rice doesn't stick when the stock is low.
With the last half cup of stock, add the ground oregano and stir well.
When the stock is all absorbed, taste the risotto to make sure the rice is tender (if not, add another 1/4 cup of stock).
Add the mascarpone cheese and stir until it has melted in
Serve hot and enjoy!