gailanng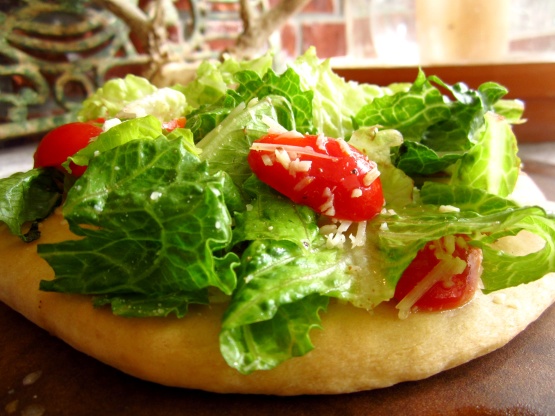 This is something great if you are getting sick of plain old salad and need to liven it up a bit. I found this in a Pampered Chef cookbook. My mom served it to her bookclub friends who are all on weightwatchers and they loved it. Great for a light summer meal.
Preheat oven to 425* Roll out dough into desired shape.
Press garlic over dough and spread.
Sprinkle with oregano and basil.
Place on bottom rack of oven for 12-14 minutes or until golden brown.
While crust is cooking, place lettuce, onion, tomato,olives, and dressing into a large bowl and toss to coat.
When you remove the crust from the oven, immediately sprinkle with mozzarella and 1/2 of the parmasean cheeses.
While still warm top with salad mixture.
Use remaining cheese to top salad.
Serve immediately.