Prep 25 mins
Cook 1 hr 30 mins
You can make this using all beef or half beef and half ground pork in place of the sausage meat, I have to say that the using the sausage meat with the ground beef is better! You can really add in any spices that you like, I prefer it with oregano, use seasoning salt for this or regular white salt
Directions
Set oven to 375 degrees.
Grease a 13 x 9-inch baking pan.
Mix the first 12 ingredients together.
On a large sheet of doubled waxed paper, pat the mixture into a 13x10-inch rectangle.
Arrange the ham slices on top of the beef mixture, leaving about 1-inch space around the edges.
Sprinkle the mushrooms over the ham.
Sprinkle the mozza cheese over the mushrooms, then sprinkle the Parmesan cheese over the mozza cheese.
Starting at the smaller side, roll the meat up jelly roll style (using the wax paper to lift up the beef mixture).
Lightly press together edges the best that you can (they don't have to be closed completely).
Place seam-side down in a 13 x 9-inch baking pan.
Brush with remaining 1/2 cup (or more of pizza sauce).
Bake for 1-1/2 hours (THE LAST 10 MINUTES OF BAKING, sprinkle with about 1-1/2 cups grated mozzarella cheese).
Reviews
Most Helpful
My family loved this! I doubled the recipe and put one in the freezer. We ate the first one as posted and the leftovers we chopped up and put on subs! Yummy any way you prepare it! Thanks for posting!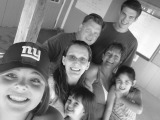 This was fun to make and really rather easy also. It was also very moist and I even used 93% ground beef. There were couple of things I did different, one was to use bulk Italian sausage and the other was I used parchment paper to spread the meatloaf on. I'm so glad I did as I used the parchment paper to help transfer the meatloaf to the pan. I know if I tried this with the waxed paper it would have torn. No doubts in my mind as you are lifting over 3#'s of meat. The only thing I'd change the next time I made this would be to use only 4 ounces of mushrooms. Thank you for sharing your recipes.