Italian Roasted Vegetables
GaylaJ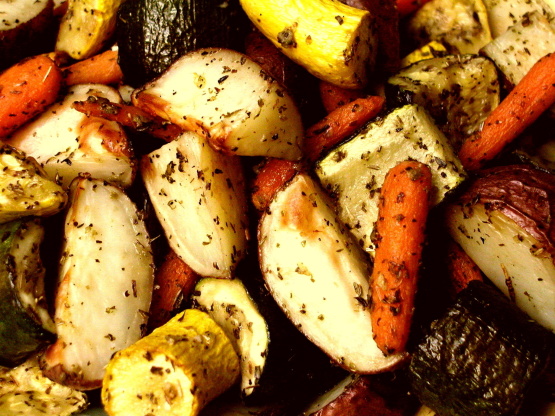 A recipe that came along with a purchase from a Pampered Chef Party. Well worth the purchase as I use the recipe all the time! A great recipe for summer when zucchini's are everywhere.

Great recipe! I love roasting vegtables it brings out the sweetness in them. Thanks for posting!
Preheat oven to 425.
Cut potatoes in half lengthwise, then cut each half lengthwise into 1-inch-wide wedges. Cut carrots diagonally into 2-inch lengths. Cut summer squash and zucchini into 2-inch pieces.
Place vegetables in large bowl; toss with oil.
Press garlic over vegetables using garlic press.
Sprinkle with Italian seasoning, salt and black pepper; toss to coat evenly.
Spread vegetable in a single layer in oven pan.
Bake 40-45 minutes or until golden brown and crisp-tender, stirring after 20 minutes.