Italian Roasted Cauliflower
Boomette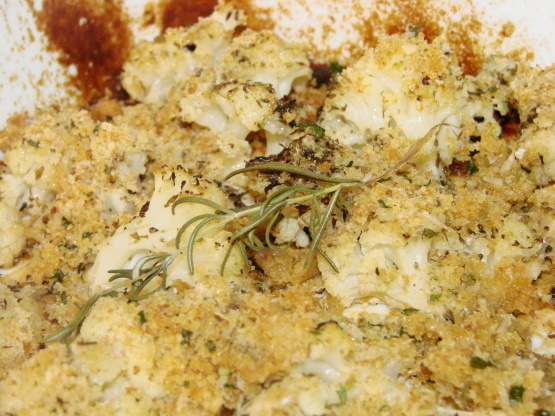 A unique and flavorful way to serve cauliflower I really like this recipe because it shares the oven well with Spinach No-Boil Lasagna #113858. Make up both of these dishes and put in the oven, for an easy dinner-party meal that can be prepared ahead of time, then cooks in the oven while you entertain. This recipe is a modification of #275788 which deserves the credit for the flavor combination.
Preheat oven to 350.
Layer cauliflower in a single layer, stems down in a 19x9 baking dish.
Pour wine over cauliflower.
Brush olive oil over cauliflower.
Sprinkle garlic over cauliflower.
Sprinkle oregano over cauliflower.
Sprinkle salt and pepper over cauliflower.
Cover dish with aluminum foil.
Bake for 45 minutes.
In a separate bowl combine breadcrumbs, romano, parmesan, and 2 tbsp olive oil. Mix until combined and mealy.
At the end of the 45 minutes, sprinkle the crumb mixture over the cauliflower and garnish with the 4 sprigs rosemary.
Return to the oven uncovered for another 15 minutes.
Serve.