Italian Ricotta Tomato Pie
SaraFish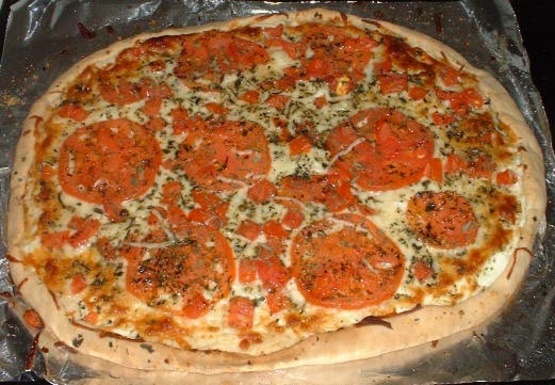 An easy-to-make, no-yeast, rustic pizza. Uses a pantry staple - Bisquick! I adapted this from a recipe off the side of my supermarket's box of all purpose baking mix. It's fast and very yummy.

This was darned tasty. I made it pretty much exactly as written, but I had only a scant cup of ricotta on hand, not quiiite a full cup. I also did the foil and spray step you mentioned (using canola oil cooking spray instead of Pam, which I've never bought). Since I live at a high elevation, I baked the pie for a full 20 minutes. The flavor is somewhat mild, so I can see why some other reviewers added other spices and so on. But as is, it's a light, healthy version of pizza. It did take me a while to prep, but I'm pretty meticulous about things. All in all, a great recipe - thanks!
For crust, stir together baking mix, garlic powder, pepper and hot water until it becomes a dough then knead it with your hands for a few minutes on a floured board.
Press, pat and coax dough out on regular size greased baking sheet (I cover my baking sheet with foil and then spray the foil with Pam).
Set aside.
Slice tomatoes then take the ends and the parts you couldn't get a good slice of and dice them.
Set aside.
In a small bowl, mix ricotta with garlic and parmesan.
Carefully spread dough with ricotta mixture, leaving a 1/2 inch edge.
Top with mozzarella cheese.
Place tomato slices and then diced tomatoes.
Sprinkle with basil and oregano and then drizzle with oil.
Moisten the edges of the dough with water and fold up to form a small crust.
Bake at 400 for 15 to 20 minutes.
Enjoy!