Italian Ricotta Lemon Cake With Blueberry Topping
Rita1652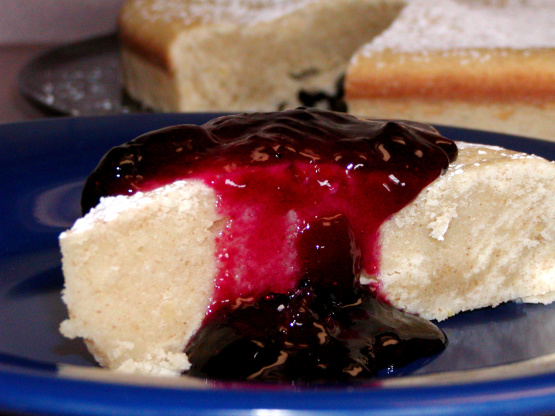 Lemon flavored and moist, this cake is delicious with a topping of sweetened berries. From Italian Forever.

I adore the cheesecakeyness of this and whats not to love about lemon! I used 1 cup of Splenda for the sugar and that was spot on. I wondered about no baking powder but I'm so glad that I didn't give into my my doubt and just followed the recipe as written. I got a deep, moist, creamy cheesecake like (toward the center)pan of goodness. Skipped the sugar topping because Splenda just doesn't look as nice as sugar, I baked for the min time given but will cut back of that next time as the outside next to the pan was done a bit more than I would have liked. Not the recipes fault, my oven is an over achiever. Made for ZWT7.
For the cake:.
Preheat the oven to 350 degrees F.
Butter and flour a 9" cake pan.
In a bowl, mix together the butter and sugar until fluffy.
Add the eggs, lemon extract, milk, ricotta, flour and lemon zest, and beat well for 2 minutes on high speed.
Pour into your prepared pan.
Bake 45-50 minutes, or until a toothpick inserted in the center comes out clean. Allow to cool.
Topping:.
Combine the blueberries, lemon, sugar and 1/2 cup of water, and cook until thickened. Remove and cool.
Once the cake has cooled, dust lightly with the powdered sugar.
Serve a small slice with a spoonful of blueberry topping.