Italian (Ricotta) Cheesecake
Dee514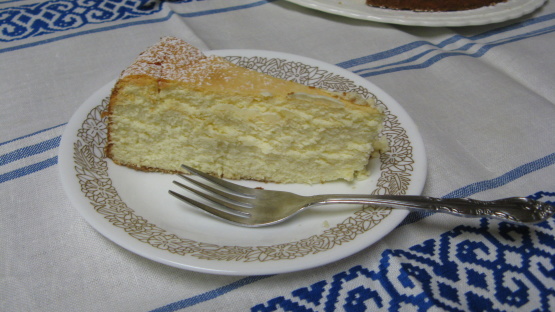 This is the recipe I have used for years to make "Italian" cheese cake. It is a wonderful, basic cheese cake which easily lends itself to "variations".

Thank you for this recipe. My sister used to make this years ago, but stopped now. This year my family is not going up to New York for Easter, so I needed this recipe, and she told me to use an Amercican cream cheese recipe and to sustiute ricotta. Luckely, we found your recipe. Thank you again, and we wish you a Buona Santa Pasqua. Joe Pedicini and Family.
Preheat oven to 425°F.
Butter bottom and sides of a 12-inch springform pan.
Sprinkle bottom and sides of well buttered pan with Graham cracker crumbs.
In a large bowl, beat drained ricotta until very smooth.
Gradually add 1 1/2 cups sugar and egg yolks, beating after each addition.
Beat in flour, lemon rind, and vanilla.
In a small bowl, beat cream until cream holds its shape, but is not too stiff.
In a smaller bowl, beat egg whites with remaining sugar until stiff; combine with whipped cream and fold into ricotta mixture.
Pour mixture into prepared pan.
Bake for 10 minutes.
Lower oven temperature to 350°F and bake 1 hour.
Turn off heat and allow cake to cool in oven with door closed (about 3-4 hours).
Remove cooled cake from oven, carefully remove sides of pan, store cake (well wrapped) in refrigerator.
Before serving, lightly sprinkle top of cake with Confectioner's (powdered, 10X) sugar.
Cake may be served chilled or at room temperature.
Note: Center of cheese cake will be lower than the sides when it is cooled.
This is not a defect!
It is supposed to be this way (makes it easier to hold the topping if you choose to use one).
VARIATIONS: Add raisins, chopped citron or chopped maraschino cherries to the batter.
Top cheese cake with crushed sugared strawberries or cherries before serving.
Cover bottom of crumbed pan with drained, sweetened crushed pineapple, applesauce or sliced apples before adding batter to pan.
Pie crust pastry may be used instead of Graham crumbs to line pan.