Linajjac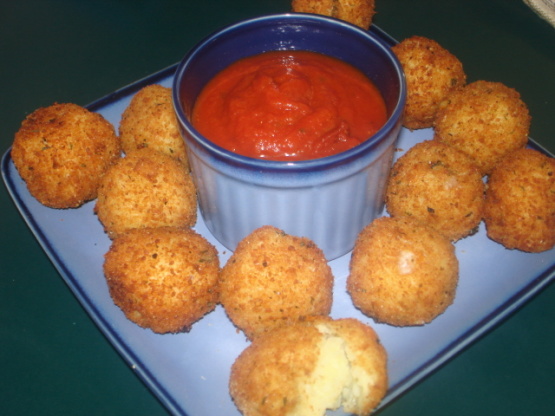 Rice symbolizes prosperity and wealth, so rice balls are good for New Year's and wedding celebrations. I love these tasty little morsels, and they go well with many different kinds of food! I've served them with various meats and seafood, and they're always welcome at my table. :) Prep time includes chilling.

My Good Italian friend told me about these, and the next day I made them. I found them easy to make , no problem with the rice holding together. I added some Garlic salt and Chopped Basil that added some Flavor. I used a Ice-cream scoop to make my balls which helped with the size being consistant and also you have to have a bowl of water to keep your hands wet while forming your balls....They were Awesome and I can see they will be a New Favorite in my house !!!!!
In a bowl whisk together the eggs, Parmesan cheese, basil or parsley (I prefer basil), pepper, and salt; cover and refrigerate.
Pour the chicken broth (or water and a 1/2 teaspoon of salt) into a large saucepan and bring to a boil; stir in the rice, cover and reduce the heat to low.
Cook the rice until liquid is almost absorbed, about 15 to 17 minutes.
Remove from heat and gradually pour in egg mixture, continually stirring rapidly to coat the surface of the rice and prevent the egg from scrambling; allow rice mixture to cool in the refrigerator for 1 hour.
Pour bread crumbs into a shallow dish.
Dampen your hands with water and create 1-inch balls from the rice mixture, then coat each one with bread crumbs.
In a small, deep skillet, heat enough oil to cover the rice balls to an adequate frying temperature (350 degrees F) so that a piece of rice from the mixture actively sizzles when dropped in; alternately, a deep fryer may be used.
Fry the rice balls 4 to 6 at a time, turning as needed to ensure even browning.
Drain on paper towels, then serve warm as is or with a bit of marinara sauce.
Another nice touch you can use with these is to put a small cube of mozzarella cheese in the middle of each rice ball!